About Victor
Victor Michael Zando grew up in Staten Island, New York with his parents, Marilyn and Ray, and his younger sister, Dorothea. He attended St. Clare School and Msgr. Farrell High School. While attending high school, he worked evenings and weekends at his father's store, Michael's Meat Market, in Eltingville, Staten Island. He always maintained very good grades and excelled as a high school athlete playing both soccer and football. Despite his small size he was a starting offensive lineman in football and the three-year starting goalie in soccer. He had an incredible passion for sports, especially football. Victor may have had limited talent and size, but he had an amazing desire to play, compete and win.
His father, Ray, died unexpectedly at the age of 44, two weeks before Vic's graduation from Farrell. Victor's leadership, his strength and his giving spirit became evident in the way that he cared for his mother and sister. These were the traits that he would continue to display in all aspects of his life.
As a young adult, he started a career in the Financial Services sector. While he enjoyed his career, it was his leisure time that he was passionate about.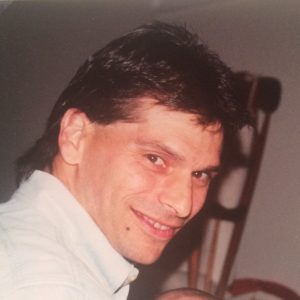 Victor was a fixture in the Staten Island athletic community. He played touch tackle and soccer, however, his legend was formed during his 27 years on the softball fields of Staten Island. The teams he played on consisted mostly of close friends and family. During what would be his last year of softball, he was playing with friends he played with on his very first softball team. His friendships lasted a lifetime. He was admired and respected by all who know him. He trained hard, enjoyed the comradery of the team, loved the preparation and the competition that came with playing organized ball.
Victor was always involved in helping others. With his best friend and brother in law, Tom Ramhold by his side, he spent many hours working to help restore ball fields and coaching young kids. His reward was the satisfaction of knowing he was making a difference. He was an idol for the neighborhood kids and for his nieces, nephews and godchildren. It was a responsibility he never took lightly; he was always an example of honesty, integrity and commitment.
He went to church on Saturday night then to his favorite restaurant. He played softball on Sunday mornings then enjoyed family dinner in the afternoon. He had a simple, quietly dignified approach to life.
Victor made the world a better place to be for every person that came in contact with him.
In 1999, Victor married the love of his life, Laura Parrino. He immensely enjoyed married life and was even more thrilled when on June 23, 2001, their daughter, Victoria Ann, was born. He relished his time with his wife and daughter, and the life they were building together as a family.
On October 5, 2002, Victor died suddenly and tragically at the age of 45 while out on his daily run.
In our life, we are judged by what we do with the gifts we are given. Victor made the most of his many gifts. He is missed every day, but his handsome smile, great sense of humor and loving nature will stay with those who knew him forever.