VZF 2020-2021 Newsletter
January 23, 2021
Little Red Christmas Bag Project
November 29, 2021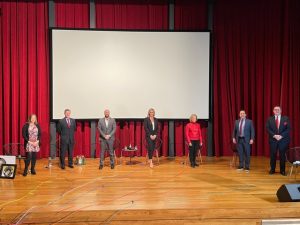 February is Heart Health Awareness Month.
The VZF was honored to be represented on the panel at the Holmdel Chamber of Commerce meeting. In recognition of February's Heart Health Month, this ChamberCast at Bell Works focused on heart disease and prevention.
The line up included: Cardiologist Dr. Shaddy Younan, Chairwoman Patty Micale and Board Member Doreen DeMarco both of Hackensack Meridian Health Women's Heart Fund, Brian Druker, partner of the new Bell Health and Pharmacy and Jim Schatzle, Founder of TEAMLife.
THANK YOU SO MUCH to Terrance Wall for his excellent moderating and to Jeanne Wall for including The Victor Zando Foundation as part of this amazing panel.
We hope the story of the VZF will help to remind us all that sometimes an incredible tragedy can create so much inspiration.